As part of a cooperation project to support the Faculty of Law and Political Science at the National University of Laos, a delegation of four PhD students and one post-doctoral researcher, accompanied by Associate Prof. Silvia Allegrezza and the Faculty Dean, Prof. Stefan Braum, joined a research workshop in the country's capital Vientiane at the end of May 2017.
For Prof. Braum and Associate Prof. Silvia Allegrezza, both specialists in criminal law, this was a continuation of a project launched in 2013 with a view to strengthening legal higher education in the country. They previously visited the university in Laos in May 2016 to assist workshops on human trafficking and the smuggling of migrants in the region.
During their trip this year, they were joined by PhD candidates Olivier Voordeckers, Moritz Klein, Anna Mosna and Basak Baglayan Ceyhan, and post-doctoral researcher Dr Giovanni Zaccaroni.
In cooperation with the Institute for Legal Support and Technical Assistance (ILSTA), which works with the Luxembourg Foreign Ministry, the academics from Luxembourg joined workshops focusing on fostering research skills at the Vientiane Faculty. Three days were devoted to intensive workshops where the genesis of a research paper was discussed, starting with a workshop on how to pick a topic and culminating in a workshop on legal writing skills.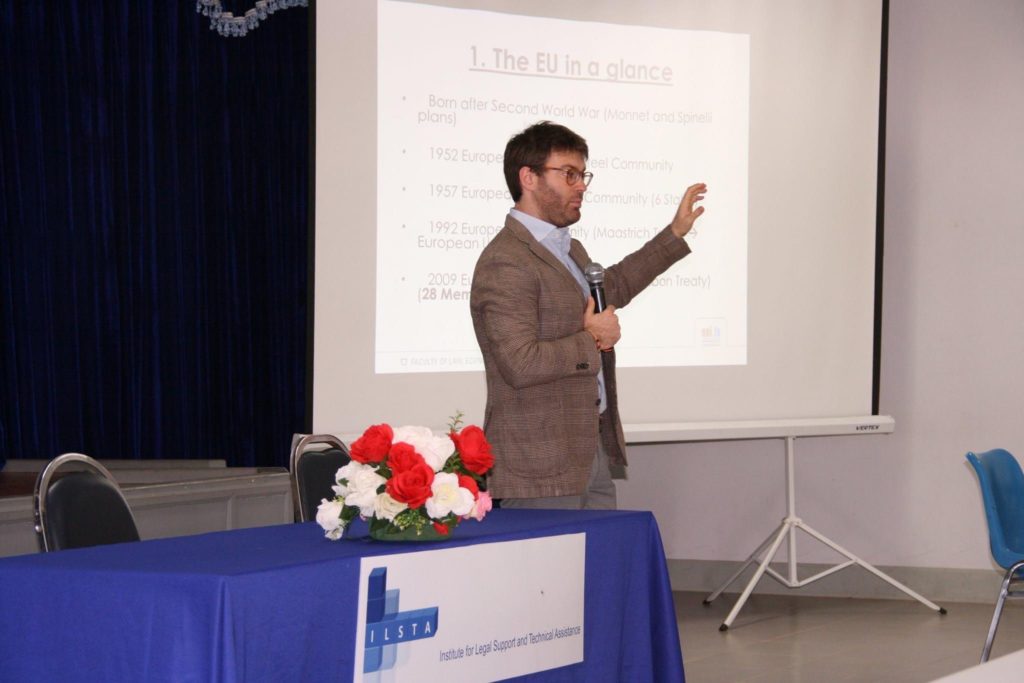 The Luxembourgish delegation was warmly welcomed in Laos. The workshops proved a success generating interesting debate around research questions. Also contributing to the discussion was Dr Zaccaroni's lecture "The Role of the European Union as a Global Legal and Political Actor".
Future cooperation
The extensive research workshop was the first of its kind hosted between the two faculties, with plans to organise such an event annually. Similarly, it is planned that two Lao researchers will be selected for a research stay in Luxembourg next spring.
To highlights this important partnership, the entire delegation met with Lao Minister of Justice, Mr Xaysi Santivong, together with the Chargé d'affaires of the Luxembourg Embassy in Laos, Mr Claude Jentgen, as well as further representatives of ILSTA and Lux Development.
Efforts to support law teaching and research in Laos will continue in the future as part of the Faculty's international outreach activities. Dr Heleen De Geest, a PhD graduate of the University of Luxembourg, is based in Vientiane as the liaison officer since February 2017. "Being on the ground allows a better assessment of the teachers' research needs here and enables me to directly pass on my experience," explained Dr. De Geest.
Article retrieved from: https://wwwfr.uni.lu/fdef/actualites/fostering_research_skills_at_national_university_of_laos